Bachelor anglophone en management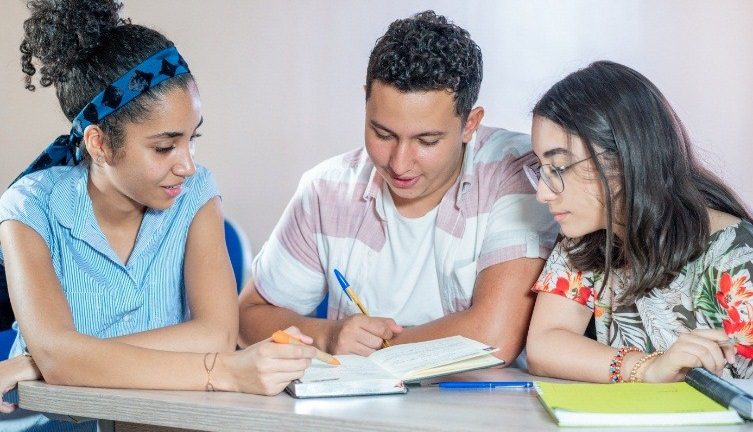 ENGLISH BACHELOR'S DEGREE
Bachelor in Business Administration
Offer yourself a new opportunity by enrolling in the new 100% English-speaking bachelor's program in Business Administration. Spread over 3 years, the new ISIAM-business school bachelor program provides academic training in line with permanent market and economic developments. It offers you the opportunity to achieve a good operational level in English, for a better international orientation.
It offers a complete and ambitious format, allowing access to qualified positions, while integrating Anglo-Saxon reference standards.
ADMISSION REQUIREMENTS
B2 English Level
Admission in 1st year: All Baccalaureate option
Parallel admission: According to file review
Admission in 4th year: BAC+3 or Bachelor in Management Science, Economics,…
Language level TEST :
The purpose of this test is to evaluate the student's language level in French and English in order to have him/her join a group of the same level.
File review :
The file review is mainly based on the grades obtained in the various disciplines. The pedago- gical commission judges and decides whether the student's grades are acceptable for the student to join the program.
Selection interview :
The purpose of this interview is to determine the student's real motivations. If the pedagogical commission gives a favourable opinion, the student is then invited to validate the registration formalities.
Registration documents :
Copy of the certified baccalaureate certificate
2 certified copies of the baccalaureate
Baccalaureate transcript
1 certified copy of the CIN
Birth certificate
2 photos
Payment of registration fees
FIRST YEAR
SEMESTRE 1
Course
Management 1
Microeconomics
Accounting 1
Computer studies 1
Introduction to law
Business English 1
British and American Cultures
Spanish 1
SEMESTRE 2
Course
Marketing
Management 2
Accounting 2
Computer Studies 2
Applied Mathematics
Business English 2
Academic writing
Spanish 2
SECOND YEAR
SEMESTRE 3
Course
General Taxation
Human Ressource Management
Probabilities & Statistics
Database Management (Access)
Financial Mathematics
Intercultural Communication
Spanish 3
SEMESTRE 4
Course
Business Law
Marketing Research
Financial Analysis
Macroeconomics
Web Development
Organizational Communication
Spanish 4
Internship
THIRD YEAR
Finance / Accounting Major
SEMESTRE 5
Course
Internal Control
Company Accounting
Company Taxation
Financial Applications on Excel
Production and Quality Management
Communication and leadership
SEMESTRE 6
Course
Financial Management
Management Accounting
Information System
Entrepreneurship and Project development
Spanish 5
Feasibility study for the creation of a company
Marketing/ Trade Major
SEMESTRE 5
Course
Commercial Communication
Sales and E-commerce
Cost Analysis and Investment choices
Graphic design
Production and Quality Management
Communication and Leadership
SEMESTRE 6
Course
Website Design
Distribution and Retail Trade
Information system
Entrepreneurship and Project development
Spanish 5
Feasibility study for the creation of a company
2nd Cycle
Digital Marketing
Semestre 7
Course
Consumer Behavior
E-commerce and Digital Communication
Marketing Strategy
Industrial and Commercial property law
International Economics
Business English for Marketing
Financial Engineering, Control and auditing
Semestre 7
Course
International taxation
Advanced corporate finance
Management Control
Advanced finance Accounting
International Economics
Business English
Digital Marketing
Semestre 8
Course
Brand e-reputation management
Customer Relationship Management (CRM)
Web Application Development with Angular
Merchandising
Human aspects of organizations
Advanced Statistics
Financial Engineering, Control and auditing
Semestre 8
Course
International Accounting : IFRS 1
Group Accounting : Consolidation
Accounting Audit
Company Law
Human Aspects of organizations
Advanced Statistics & Stochastic Calculations
Digital Marketing
Semestre 9
Course
Community Management
Web Analytics and content strategy
Digital Ergonomics and design
Search engine optimization (SEO)
Project Management
Communication and Personal Development
Financial Engineering, Control and auditing
Semestre 9
Course
Audit & Control in a digital environment
Group Accounting : mergers and acquisitions
Strategic management control
Synthesis cases
Project management
Communication and personal development
Digital Marketing
Semestre 10
Course
End of studies internship
Financial Engineering, Control and auditing
Semestre 10
Course
End of studies internship